I was born at an early age in a Boston hospital. I don't recall my birth, but accept it as truth since it appears on my birth certificate, I'm here, and my parents have assured me it's the truth. I have to assume that's when and how I arrived.

I grew up in North Quincy, Massachusetts, and went through the public school system. I wasn't a student who stood out. If my English teacher in the ninth grade had not told me to put down a copy of Hemingway's short stories (I had taken it off a bookrack during study class) because I was "too stupid to understand it," I might never have wanted to read. Thank you Mr. Carlin! In my senior year, I talked my creative writing teacher, Mrs. Shapiro, into getting the school to allow us to publish a creative writing magazine, Counterpoint. Mr. Carlin barely passed me, Mrs. Shapiro gave me A's! Go figure!

While in high school I worked as a stock boy at the Orbit Department Store in Dorchester, until I tried to help unionize the workers. I was fired for this. The Retail Clerks Union found a stock-boy position for me in Filenes', an upscale department store in downtown Boston.

When I was sixteen, Jack Scanlon, a family friend, helped get me the midnight-to-eight weekend office boy job at the Record-American, Sunday Advertiser, a Hearst Newspaper. Those two-nights a week began my education into the world of journalism and politics. What I learned from the men and women on the Record and Advertiser was more important than anything I learned in college. I was fortunate to enter the world of journalism in its gritty days, when reporters came up the ranks from office boy, to cub, to reporter. My early years were like a black-and-white noir movie, no kidding. There's a book in those early adventures, and someday I expect to write it.

College taught me how you were supposed to put a news story together, but nights as a copy boy taught me how to dig up the facts and write the story. There were no Google searches back then, it was legwork! Those days are long gone, when the police, and even politicians, had an understanding with journalists of how life worked. Neither journalism nor the public is better off because those days have been lost. After high school, the paper put me through an editorial apprenticeship.

Because of my volunteer work at the Cardinal Cushing Center for the Spanish Speaking, I received a summer scholarship to the University of Puerto Rico's "Social Welfare Workshop." I spent that summer living at the Normandy Hotel in Old San Juan, and learning about the cultural and historical aspect of Puerto Rican life. It was an adventure and I wrote a couple of freelance pieces on Puerto Ricans in Boston, for the San Juan Star. Years later I learned that Hunter S. Thompson also wrote for the paper - long before I got there.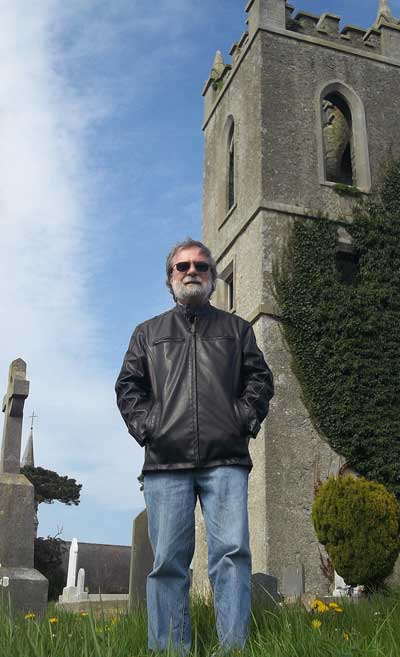 I left Boston and moved to Los Angeles, where I worked in TV and freelanced as a photojournalist for years. I served one year on the board of directors of the Press Photographers Association of Greater Los Angeles. I also married, fathered twin daughters (Seanan and Chela), and divorced, while in LA.

When I got fed up with Hollyweird, I moved to Key West, where I went to work for Bernard Hunt at the daily Key West Citizen. Bernie and copy editor Vann Trotter forced me into the business editor/writer position and I don't think I ever had the decency to thank them. The position gave me a unique opportunity to witness the inner workings of business in Key West. I spent more than five years at the Citizen.

I have spent another five years as the public information officer for the City of Key West. Add the inner workings of Key West politics to my knowledge of local business, and you could say I have an inimitable opinion and understanding of the workings of my island home. Education, I discovered long ago, comes with living life, not necessarily from the hallowed halls of universities. My ten plus years in Key West has been educational, in many ways. My mystery novel is fiction, but the city that looms in the background, the bars and restaurants and many of the characters that run through its pages are taken from real life. If you have visited the island, you will know this. If not, come on down and see for yourself.

I moved to Key West to sail and today I own a 1973, 36-foot Amel sloop. With friends, I have sailed to Cuba four times and flown from Miami once. Much of what I learned about Cuba is in my novel. While I wait for a political change in both the US and Cuba, I still sail the waters off Key West, expecting the day I can sail that 90-miles south will arrive soon. I would love to set a whole novel in and around Havana.

In my writing, I have tried to be faithful to the island and its businesses. I should remind you that my story is fiction, because crime as I write it does not happen in Key West. We are a long way from the mayhem and gangs of Miami, but with a vivid imagination, I have been able to create the situations needed for a political-murder mystery.

Hope to see you at the Smokin' Tuna, Hog's Breath or Schooner Wharf one of these days.

Don't pee into the wind.


Key West, Florida


"I've spent some time on Key West, and Michael Haskins captures its exotic nature in wonderfully spare prose and dialogue. Throw in a good mystery with international implications and you have a genuine winner in Chasin' the Wind." -- Jeremiah Healy, Author of Turnabout and The Only Good Lawyer, Shamus Award Winner

Drawing you in from the first pages, Michael Haskin's fast-paced and gripping Chasin' the Wind, brings Key West to vivid life, revealing a dark menace rippling beneath the placid city of shaggy bars, flowing rum and the sound of rain on tin roofs." -- Megan Abbott, Queenpin and The Song is You, 2006 Edgar Nominee, 2006 Barry Nominee, 2006 Anthony Nominee

"When you think of Key West, what first comes to mind are likely beautiful sunsets, clear blue water and cold beer enjoyed to a soundtrack of island music, not a man beaten half to death outside the clubhouse of a sailing club. But that's the way Michael Haskins introduces us to Key West in Chasin' the Wind." -- Bill Cameron, Lost Dogs and Chasing Smoke
"The Russian Mafia, gunfights, a harrowing in-air plane crash all capture the violent world Mick Murphy inhabits. Michael Haskins makes me wonder if I ever want to visit the Keys again. He takes the laid back Key West culture and ratchets it up to where you can't turn the pages fast enough. Another breathtaking tale from Haskins and Murphy." -- Don Bruns, author, Hot Stuff, Stuff Dreams Are Made Of, Stuff to Spy For, Don't Sweat the Small Stuff, Too Much Stuff and the Sever Music Series.